As a new trader you are often faced with a plethora of choices when venturing out into the retail trading world.
Whether you are looking for a broker with cheap commissions, a solid trading platform, powerful mobile app or a broker with top notchtrading education, you have got to do your research.
Whatever you decide, without a good online trading broker, you are truly powerless to act upon anything in the markets. Long gone are the days of bucket shops and panicked phone calls to your broker.
The most important option to most novice investors will likely be costs. As mentioned earlier, the overhead costs involved with trading prove to be insurmountable for many new traders with smaller capital.
Costs from online trading brokers can come from commissions,ECN fees, data fees, margin fees and even fees for phone order executions. Believe it or not, these fees can and will affect your profit and loss.
I also place high value on speed of execution and software stability. For what its worth, I will sacrifice bells and whistles ANY day just to have the ability to place a trade, get a FAST execution at MY price, and not have the software crash on me mid order. Believe it or not, that does happen and it has happened to me.
Amenities are nice. We like them in our hotel rooms, we like them when we are spending a lot of our money on cars and any time we feel that we should get a little bit extra value for the amount of money we are entrusting.
Online trading brokers are no different. In a world where everyone is selling themselves as the best online broker service, what really matters is what is useful to you.
Do you trade futures,forexoptionscommoditiesstocksOTCand international markets? Are all of those options important to you in a broker? If not, then your search just got easier. Focus on the kind of trading you do and want to do. Dont worry about excess. You can always open up accounts later on with more suitable online trading brokers.
Customer service. This might seem like an obvious one, but let me tell you that some brokers are completely anti customer. I wont name them here, but you will find that in this world, nobody cares about YOUR money more than YOU.
Make it a priority to research and contact customer service departments at various brokers. See who responds to your inquiries and how long it takes them. Think about it this way, brokers know that most traders will blow up their accounts and be gone in a short time.
Their purpose is to get their claws into as much ofequityas possible, and if they ignore your issues long enough, you are statistically likely to be gone soon anyways. Find the brokers who make the effort to care about your concerns.
Finally, for new traders, I would focus my consideration for the best online trading broker to a place that provides incentives. Not all online trading brokers offer incentives, but many do, especially for new traders.
Whether you get free trading for a month or 100 free trades or no interestmargin ratesfor a specified period of time, it all adds up to savings for a new trader.
If you are jumping in to retail stock trading, then minimizing initial overhead costs via commissions or whatever you can will pay off in the end.
Incentives can even come in the form of a free paper trading accounts offered with your intended broker. Dont pass up the opportunity to test drive!
Based on the above criteria we rank the following brokers as the Top 3 best online trading brokers forday traders.  Keep in mind, if you are looking for a broker for investing or swing trading, this line up may not match your needs.  We rate EACH of these brokers equally.
Lightspeedcomes in as our second best online trading broker.  They allow direct access routing, dark pool routing, and competitive commissions.  The Lightspeed pro platform is excellent and allows for advanced use of hotkeys which are critical for day traders.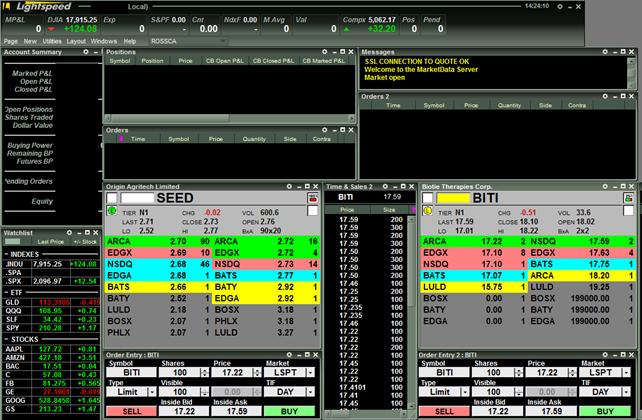 The commissions at Lightspeed are slightly more expensive than Speedtrader but is worth it in my opinion and if you are Warrior Trading student you can get a discount!  Lightspeed is working with Warrior Trading to offer students custom routing with ZERO ECN fees.
They are also participating in our Broker Rebate program to give students the lowest possible commissions. If you are a Warrior Trading member or student you can take advantage of their discounted commission rate by opening an accounthere.
TradeZerois our top broker for international students who are below thePDTlevel but still want to day trade.  The TradeZero platform is stable on both mobile and desktop, offershotkeys, and features direct access routing.
Additionally the commissions are 70% lower than all other competing brokers that allow trading under the PDT level.  Click here to read our complete review onTradeZero.
**Please note that TradeZero doesnotallow US citizens to open accounts with them because of regulatory issues.
Some of our favorite featuresInteractive Brokersfeatures is direct market access, access to international markets, a robust and sophisticated trading platform, excellent tools and education section, and competitive commission schedule.
Interactive Brokers offers a complete solution for professional traders which includes custody, execution and clearing, and reporting.
They also offer lower commissions, no ticket charges, no minimums, no technology, software, platform, or reporting fees, and low financing rates.
This is another broker that is best for traders that have a $25k account or are looking to trade options.
In the end, it doesnt matter what you decide, so long as you are comfortable with your decision and you feel like your hard earned money is safe.
The best online trading broker might different for you than it is for me, but so long as both our needs are met, its a win/win.
And competition is healthy for the marketplace, so, dont be afraid to try out multiple brokers before committing to any one.
Its worth noting that brokers such asETradeTDAmeritrade, and Scottrade are extremely popular among investors and swing traders but are typically not as popular among day traders due to slower execution speeds and more expensive commissions.
Let us know if you have any questions in the comments below!
From time to time we refer third-party products or services to you. We may receive compensation from those third parties whose products or services we refer, however, our reviews and recommendations are independent of any compensation we may receive. There is no obligation for you to interact or transact with these third parties.
Shortly after Robinhood became the first U.S. brokerage firm to offer commission free trades to its users six years ago, analysts began predicting that it was only a matter of time before other brokers followed suit by eliminating or lowering some of the commissions they charge. Robinhood promised $0 trades and high-quality features on its []
Tech stocks continue to face a period of increased volatility this year after almost a decade of taking the lead in market expansion since March 2009. Concerns regarding increased regulatory pressure, inflated stock valuations, and a downturn in the once-hot chip industry as well as slowing corporate earnings growth have dragged numerous technology stocks into []
Marty Schwartz is the Pit Bull. Hes one of the most successful publicly known independent traders in the last few decades. Being independent for the majority of his career, he became known through his outstanding performances in trading championships, and his interview with Jack Schwager in the first Market Wizards release. After his brush with []
How Does After Hours Trading Work? After hours trading is trading that takes place after the stock market closes for the day, typically between 4:00p.m. ET and 8:00 p.m. ET but can vary between broker. Similarly, there is a trading session that occurs before the opening bell, which is referred to as the pre-market session. []
Your email address will not be published.Required fields are marked*
Our Mission is to help 50,000 traders on their journey to success over the next three years. Become our next student today!
Before I started trading, I would make $1000 in 2 weeks…Now after taking the warrior trading course, I can make that in a single day, at 26, I now own my own house and I am fully independent, thank you warrior trading for everything you have done for me, my future looks brighter than ever!
I had a job I didnt really like and I was forced to live five thousand miles away from my home Country…After joining Warrior Trading, I can trade from anywhere and my income is more than doubled. Thanks to this community, it now feels like Ive been given the keys to absolute freedom.
After 3 years of trading as a student my portfolio has net more than $230k…For year 2019, in less than 6 months Ive net more than 140k. With Warrior Tradings mentorship and my investment knowledge prior to coming on-board, I developed my own short term swing trading strategy.
On January 24th 2019 I started with $690 in my March I made $4,433.89 and by April, my account was up 1,000%. Id made $6,900 in 42 trading days.
I think trading is the only place in life where I can say I am totally responsible for my outcomes…Thats huge in a world where previously waiting on someone else to make decisions about my income felt like a prison. I now have full autonomy.
If you do not agree with any term of provision of our Terms and Conditions you should not use our Site, Services, Content or Information.
Please be advised that your continued use of the Site, Services, Content, or Information provided shall indicate your consent and agreement to our Terms and Conditions. Warrior Trading may express or utilize testimonials or descriptions of past performance, but such items are not indicative of future results or performance, or any representation, warranty or guaranty that any result will be obtained by you. Your results may differ materially from those expressed or utilized by Warrior Trading due to a number of factors.
Any and all information discussed is for educational and informational purposes only and should not be considered tax, legal or investment advice.  A referral to a stock or commodity is not an indication to buy or sell that stock or commodity.
This does not represent our full Disclaimer.  Please click here to read our complete disclaimer:
The $583.15 to $1,000,000 Trading Challenge Real Money & Fully Verified
2019 Earnings & Broker Statements2018 Earnings & Broker Statements2017 Earnings & Broker Statements