The leading CFDs comparison site to find the best forex broker based on spreads, forex trading platforms, leverage & online trading features!
The best forex broker Australian firms have spreads from 0.0pips, commissions starting at $3.50 per 100k, hold an AFSL foreign exchange licence and have a strong presence in Australia with the largest forex brokers including Pepperstone, IG, City Index, CMC Markets and IC Markets.
View the leading fx brokers in Australia below.
By Justin Grossbard / Updated: Wednesday, December 04th, 2019
The best forex brokers in Australia to suit each forex trading style are:
No Commission Account Spreads From (EUR/USD):
Guaranteed Negative Balance Protection / Fixed Spreads
Pepperstone Is The Best Forex Broker In Australia
A May 2019 comparison found that thePepperstone Razor Trading Accountoffered the best value with the:
The overall rating is based on review by our experts
What Forex Trading Platforms Does Pepperstone Offer?
Pepperstone offers Australians the choice of thetwo most popular fx trading platformsglobally.

The MT4 forex trading platform is the most popular worldwide due to its ease of use, charting and the ability to execute trades easily. Pepperstone also announced in 2018 the release of MT5, both of which offer:
Navigator & Market Watch Windows with 85 indicators
Unlimited chart configurations and analysis tools
The ability for automated trading (Expert Advisors)

Primarily used by expert Australian forex traders, this fx trading platform is commonly used by day-traders. Expert strategies that utilise automation are executed for financial services with other features:
Detachable next-generation charting with level II pricing
Fast execution entry speeds to make quick trades online
Automated options through the cTrader dedicated platform
The forex platform comparison table below shows the functionality of these two platforms.
What makes Pepperstone exceed other Australian forex brokers is theirsmart trader tools.This is available to all traders who choose MetaTrader 4 as their forex trading platform and have a deposit of at least AUD 500.
The 10 smart trading applications shown below give Pepperstone MT4 trader the edge, helping trade smarter with detailed insights into currency and CFD markets. These tools assist forex trading with expert trade execution and management, advanced alarms, decision assistance as well as broadcast features providing market information to traders. These tools are designed for both those new to trading and the most experienced traders.
The top 10 Pepperstone smart trading tools designed for currency trading are:
This feature helps set up notification and alerts of events that may impact currency markets. This tool can be automated to send alerts via SMS or e-mail.
Get quick access to RSS news feeds, trading guides and an economic calendar through this centralised portal. The portal also allows trades to get access and fund their account.
This tool shows the correlation of an asset vs other markets to provide insight into exposure to the market. This helps determine the position of open trades based on the correlation of those trades.
This compact tool helps traders get access to features without opening the MT4 program. This includes account information, the ability to make orders and advanced monitoring tools.
RTD is an excel tool that allows spreadsheets to be generated and analysed through a connection to MT4. Both price and account data can be accessed and VBA programming can build financial models.
Position analysis combined with fast trade execution combined with advanced stop-loss orders are features of this all-in-one application. This allows fast advanced trading for that on-the-go.
This tool allows individual markets to be read through their sentiment rating. Historical sentiment features can also be viewed against market prices to further understand markets.
This tool allows traders to view market sessions in real-time to see what markets are open when overlap occurs and events/news related to those markets. This can help identify peak liquidity in markets.
Using this trading feature, pending order trades can be hidden from the market. This means that rather than make a standard limit or stop order, only once the price is reached the trade is executed.
Get Profit and Loss results combined with analysis of forex trading strategies. A trader can simulate how this trade would have performed based on historical market data and can be manual or automated trades.
Both MetaTrader 4 and cTrader offer a Demo account through Pepperstone. This is a free demo account loaded with $50,000 of virtual funds to practise forex trading. This demo account can be transitioned to a live account at any time. To learn more about these accounts view ourdemo page.
The combination of offering the two most popular forex trading platforms combined with the enhanced functionality of smart trading tools led to Pepperstone winning the category.
Pepperstone achieves up to 10x latency reduction and 12x improvements in Australia execution speeds when trading forex and CFD online due to:
One of the key issues for Australian traders is the distance between the country and the trading hubs either in New York or London. Slow internet connections between continents mean that latency can be experienced when fx trading leading to slippage which is the difference between the order made and the actual order received.
Pepperstone has overcome this issue by adopting infrastructure that offers a direct fibre optic cable from their Sydney data-centre to New York.
This has minimised the latency for Australian forex traders which is why advanced traders who make split-second decisions choose their ECN platform. This makes the platform perfect for traders that adopt both technical and fundamental analysis.
Optic fibre isnt enough to ensure the fastest trades for an Australian forex trader as the server it connects to is just as important. To maximise server speeds Pepperstone partnered with Equinix which not only has one of the worlds best high-performance data-centre but is also less than 18 kilometres from Wall Street.
Edge technology also has created new tools for existing platforms such as MetaTrader such as one-click-trading which ensures that as soon as a trade is made it goes straight to the market with no dealer or other external interference which may delay the trade.
Using MT4 or cTrader with the fastest infrastructure available for either platform and features to speed up trades led them to receive the maximum execution speed score of the forex brokers
Pepperstones popularity is not solely due to their technology but their ECN currency trading environment. This is matched by IC Markets which also offer RAW ECN spread across their currency trading environments. The results are razor trading account spreads are one of the lowest.
It should be noted there are two accounts. The standard account has a larger spread determined by the forex broker and the market and is normally selected by beginner forex traders. The Razor is a market maker account with market-level spreads and a flat commission of $3.50. This Pepperstone review focused on this Razor ECN forex broker account. View ourspreads pageto learn more about spreads.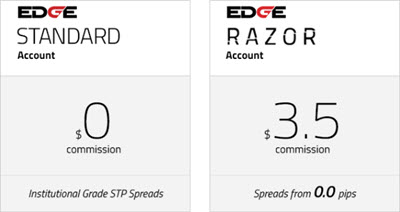 Its important to understand that Razor is a true ECN forex trading account. This is because Pepperstone allows traders to directly trade with liquidity pools making it a market maker with prices set by the market. The deep liquidity pools the account has access to are in New York for MetaTrader or London for cTrader. Overall, quotes come from up to 22 major banks and ECNs which allow during liquid periods spreads to be as low as 0.1 pips for AUD USD.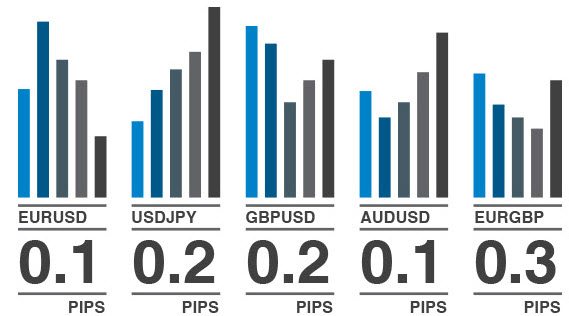 PPI technology intelligently routes currency trading orders to detect liquidity hot-spots to ensure optimal pricing for Australian traders. In simple terms, when you place a trade and the market moves in your favour (between placing the trade and its execution) the PPI technology detects the movement and when possible, fills the order at the improved level. This does not involve re-quoting but rather the traders just receives the improved price.

You can learn more about these accounts on the Pepperstonefx broker account typepage. There is also the option for CFD trading across 13 stock indices. There are no commissions on CFD trading and no dealing desk.
The Razor market maker account (ECN forex broker account) is recommended due market-based spreads and low commissions leading to lower brokerage costs. This account also provides the fastest execution speeds offered by the FX broker
Pepperstone offers the maximum Australian forex broker leverage of 500:1.
Leverage is similar to borrowing where you can borrow a multiple from a forex broker to maximise their exposure to the market. For example, Pepperstones leverage of 500:1 means you can borrow 500 times the deposit. So for example, a $300 deposit can lead to $150,000 been traded on currency markets.
Leverage amplifies movements on currency markets which are traditionally modest. For example, leverage of 100:1 will mean a movement in a currency pairing such as AUD USD of just 0.1% will lead to a 100% profit or complete loss of funds. Its critical to understand your risk appetite when determining leverage levels. It should be noted that most brokers like Pepperstone will allow you to select a lower leverage level. Make sure also ASIC regulated the broker chosen.
If you feel forex trading still exceeds your risk appetite you should consider additional features such as:
Pepperstone doesnt offer guaranteed negative protection but its sophisticated margin stop out works to exit a forex trader before they exceed their balance. For MetaTrader, this is triggered when the margin falls below 90%. cTrader has a stop-out system that is activated at a 50% percentage (or below). This helps those with a lower risk appetite when it comes to losing more than their deposit.
Pepperstone also doesnt offer guaranteed stop-loss orders but does offer standard orders. This means that a trader can pre-set the price (and/or amount) they are willing to lose on a trade and want to exit the market at. In the majority of occasions, the forex trading platform will exist the trader close to this level but its not guaranteed. Extreme events such as rate decisions when extreme movements may occur can lead losses to exceed the stop loss amount. Only a guaranteed stop-loss that has a premium cost attached to it can ensure this is the case.
Those who require high leverage would be satisfied with the 500:1 offered by Pepperstone. Pepperstone also offers lower leverage when setting up an account for those with a lower risk appetite.
Pepperstones MetaTrader 4 forex trading platform also allows cryptocurrency trading with:
The most popular cryptocurrency in 2019, this blockchain technology allows diversification from traditional financial markets. The market capitalisation in 2019 is over$65 billion USDand has become one of the most traded elements on the markets.
Now the third most valuable cryptocurrency (Ripple is 2nd at the start of 2019), this serves more industries and purposes giving it a competitive edge. Key uses of Ethereum include blockchain application platforms through to smart contracts.
Digital Cash (shortened to Dash) focuses on enhancing anonymity and processing speeds of cryptocurrency. Dash is used worldwide as an efficient payment system. This popular use has led to increased liquidity and volatility within the asset class.
This was launched after Bitcoin in 2011. The aim was to speed up transactions with the use of a simpler algorithm. The result has led to its increase in popularity and market capitalisation. This has made it a great alternative to Bitcoin to trade. More can be found on theirP2P site.
By offering 5:1 leverage on mainstream cryptocurrencies, Pepperstone enhances the potential profits or losses of this volatile sector.
Pepperstone is a relatively new Australian forex broker compared to some global players but in Australia has quickly gained a dominant market share. They have a strong customer service team in Australia of individuals who actually trade themselves making them an excellent choice of intermediate to expert traders.

This was acknowledged in when Investment trends survey of 15,000 Australian forex traders ranked Pepperstone number 1 in:
Pepperstones Australia customer support team is based out of Melbourne.  There can be the possibility of talking to an overseas customer support team during off-peak periods such as Friday night.

Pepperstone uses theZendesklive chat interface to communicate with customers. This is available during the same hours as the call centre team. Our team used Pepperstones live chat several times and found that we could engage with an agent within 5 minutes and the operator was helpful with in-depth knowledge. Overall, live chat was the fastest was to get the answer and assistance we needed when making this forex broker review.
There is 24-hour support via a 1300 number (or an international number for traders outside of Australia). This is available from Monday through to Friday. There is also a telephone number for their Shanghai and Dallas office.
Each Pepperstone call-centre location also has an e-mail contact. This is the slowest way to send enquiries and get a response but its useful for long enquiries that require attachments.
The award-winning customer service offered by Pepperstone is ideally suited for intermediate or advanced Australian forex traders. Those new to forex on the other hand may want to consider EasyMarkets (formally EasyForex).
Pepperstone has a dedicated section for those looking to learn how to play forex. There are 30 free webinars and 50 trading guides for those who favour self-learning. The webinars focus on trading strategies while the trading guides target those learning how to trade a range of markets. Learning doesnt stop with the online webinars as the phone and online support are there to help those learning Pepperstone or forex for the first time.
Traders can also learn about market events through the news that is sent via e-mail daily. News through routers is also integrated through Pepperstone forex trading platforms through their advanced trader tools. There is also a market review section within the website which is updated several times a day with the latest news that impacts currency markets.
In Australia the best broker and forex platform combination are:
MetaTrader 4 andAxiTraderbased on execution speeds and features
cTrader andIC Marketsbased on low spreads and high leverage
MetaTrader 5 andPepperstonebased on the products traded and service
You can view ourMetaTrader 5 revieworMetaTrader 4review for more details on the forex trading platforms and offers they bring to currency trading.
A forex broker main source of income is charging a spread or commission or a trade. While a buy and sell order will have a natural spread, forex brokers make money by widening this spread. ECN forex brokers avoid this income stream and rather charge a flat commission based on the trade volume.
With over $5 USD trillion traded daily, the forex market is larger than any other financial market. There is no central trading location when currency trading with forex brokers both as market makers or through ECNs (electronic communication networks) buying and selling currency globally.
Forex accounts are offered by brokers to buy, sell and hold foreign currencies. The process for trading currency is to open a forex account, make a deposit and then trade currency pairings. With the use of leverage, currency fluctuations will lead to profits or losses.
A forex trader refers to a retail currency trader who can trade most mainstream currency pairings through a forex broker. There are also institutional currency traders who make fewer but larger trades making huge impacts on currency markets.
A foreign exchange market trade is the action of buying or selling a currency pairing. A trade through a broker can include CFDs including commodities, shares, indices and even bitcoin.
Forex signals is a trigger to trade a currency pairing at a specific price and often time-frame. A signal can be a forex robot or analyst generated leading a trade alert or an automated trade to be generated.
The chart below shows what foreign currency pairings are the most traded as shown from theBank of International Statements.

The top 10 foreign currencies traded (totalling 100%) are:
The Chinese Yuan is the fastest-growing currency and is moving up the foreign currency table fast. You can read more about market growth of fx trading with our article.
When it comes to currency trading, technical analysis is a methodology used to forecast the direction of forex markets through previous market date. This includes both past prices and currency trading volume and can include three charts:
Bar charts show the high and low as well as opening and closing prices of specific periods. This is done through a line/bar format graph.
Like s bar chart, candlestick charts also show opening and closing price. They also show the high and low of the same time-frame which is the candlestick feature making it easy to identify pivot points and trend reversals.
This chart shows a line from one closing price to another. It is not specific to a period, rather is designed to show the general direction of the market.
Forex trading fundamental analysis looks at the factors that influence currency markets including economic, political and financial factors. These elements shown on the news are used by traders to predict what the future movements will be of currency markets.
Inflation can impact a countries currency value but it can also lead to rate decisions which when increased can lead to a short-term spike in the currency. This news is shared through central banks.
High valued currencies are typically from countries in surplus with historically few deficits. These countries are in a prime position to lend and trade with other countries. Governments often make press releases regarding this news.
Government budgets are a major currency driver with well balanced, trade opening policies leading to expected growth in the economy leading to a stronger budget. A budget that does the opposite can lead to a currency devaluation after released in the news.
Active trading countries when it comes to goods and services often see an increase in demand for their currency leading to appreciation.
Some traders will only choose from a range of forex brokers that also offer share trading. Having such a broker with a range of markets means they dont require multiple accounts to trade different products. Two of the larger brokers in Australia are CMC Markets and IG and its no surprise that these offer currency and stockbroking services. CMC Markets as shown below offers active investor trading from just $9.90. This is significantly lower than popular stockbroking firms such asCommSec.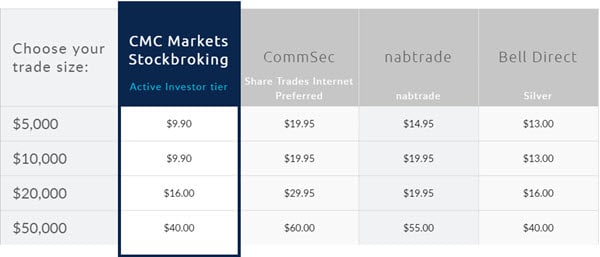 When choosing a platform, it is a good idea to select a CMC Markets platform that allows share trading. This is because not all platforms allow both CFD and stockbroker services. IG Markets offer L2 Dealer which allows both stockbrokers, forex and CFD trading options. View more oncurrency brokersthat offer these services.
The largest advantage of forex trading is that unlike the stock-market that markets are always open during weekdays. From 7:00 am Australian Eastern Standard Time (AEST) the markets are open until Saturday morning. This is achievable because a region is always trading currency from London, New York, Sydney to Tokyo. On Saturday morning the final market that is open in New York. The graph below shows how there is an overlap time between London and New York. This period has a higher volume of trades as these two regions have the most traders.

A major change that impacts markets are bank holidays (also known as public holidays). Markets may close leaving a gap in currency markets. There are also major public holidays that most countries will close markets. These including Easter and Christmas when nearly all currency markets will be closed. Generally, USA holidays impact worldwide forex trading volumes the most outside of these major holidays.
Any of the listed forex brokers above can access all the major currency markets in each country. A forex trader needs to determine their base currency when opening their account (eg Australian dollars) but this doesnt restrict them to a trading zone. For example, you can trade the Australian Dollar to the US dollar when Australian currency markets are closed. The outcome is that currency traders have more versatility when they trade compared to those who focus on shares.
Because of the extensive hours, the Australian fx brokers shown above have support open all hours during workdays. Some like IG Markets even are open during the weekend when other CFD markets can remain open. This support can come from outside of Australia for some brokers but still will meet most traders needs. Its recommended to view our reviews of Australian fx brokers customer support before joining them.
Key events that lead to an increase in volatility on currency markets include:
When a new country opens its currency markets like the stock-market increase volatility often occurs. This is due to traders factoring in movements that occurred previously in other markets.
When a reserve bank in a country markets a decision it has a direct impact on currency markets. This is due to the historical relationship between currencies and interest rates. Speculators often will trade on the moment the exact decision is made.
Key government data such as national accounts, jobs data and GDP growth directly impact currency markets. The release of information not known to the market can lead to high volatility, especially when the outcome of the data was not expected.
The announcement of an election or the outcome of an election can lead to extreme volatility. For example, when Donald Trump won the election the currency markets had extreme volatility as he wasnt expected to win.

Binary options arenot related to forex trading. Rather this is all or nothing options where a trader predicts the movement of a commodity, index, currency or share price. Its a speculative, high-risk product and Compare Forex Brokers does not recommend trading binary options.
Binary options work by predicting if in the near-future a price will be above or below a specified level. For example, will a currency pairing such as the Aussie dollar to the US dollar be trading above its current price in 60 minutes?
There are once touch binaries which the trader tried to predict if a price will or will not reach within a specified time-frame. The other is digital binaries which the trader needs to predict if the finishing price at a certain time will be above or below a specified level.
As discussed earlier, commodities, foreign exchange, individual shares and indices can be offered by a Binary Options trader. Contract duration of a binary option contract will be minutes to hours and in some rare cases several months. If the trader picks the correct movement they will get a fixed cash payout but if they dont they will lose the entire investment. For this reason, the authors compare binary options to an extremely high-risk product and should only be considered by experienced traders understanding the risks involved.

Only a handful of foreign exchange brokers offer binary options. There is a high number of binary options scams so theprofessional registrywhich ASIC regulates should be checked to make sure they are regulated by the Australian Securities and Investments Commission.
Most prospective forex traders often find it hard to differentiate the best 2019 Australian forex brokers and know which one is the best broker for their circumstances. This is especially true when it comes to safety and regulation with most Australians looking for a currency trading broker that locally regulated. This means they trade out of an Australian subsidiary and hold deposits within the country.
To help speed up the process of choosing the right forex broker ASIC regulated the key players are compared with the top 5 placed on the table above. To make the figures relevant to Australian foreign exchange market conditions, other third-party sources were also used to collect data such as spreads and fees. Below shows the complete Australia forex broker list.
While the ASIC regulated forex broker table above only have Australian regulated foreign exchange brokers, several other tables look at online brokers based on key requirements ranging from low fees to high leverage. We also focus on CFD providers such as Plus500 CFDs, FXCM and IG Markets for those looking for more than just currency trading. Most of these forex trading platforms are nationally regulated as the authors rated higher brokers that offered Australians the higher level of security. Since this is the case, its recommended that individuals view the ASIC Regulated Forex Brokers to suit their forex trading style.
This Australian foreign exchange broker comparison was based on individual brokers websites. Without the use of feeds or automation, the authors were able to give a more informed decision but it can lead to inaccuracies occurring. This is mainly due to foreign exchange brokers changing information (such as their average spreads) without notice. Please inform the authors if you see an inaccuracy. To ensure forex traders make the right decision, Compare Forex Brokers sends all users to individual brokers websites to join. At this point, the trader should verify the information found on this site to ensure the broker meets their requirements.
A shortened version of the phrase foreign exchange.
A gap between the ask and sell price of a currency pairing (often the brokers margin)
= The price a trader can sell their currency at
= This is an alert that there isnt sufficient margin to maintain the position(s) that are open and may require extra liquidity or the position to be closed
= When viewing currency pairs such as AUD/EUR the first currency (in this case AUD) is the base currency.
= The ability a forex broker provides to amplify a traders base amount to increase the exposure to the market.
is an Authorised Representative of Guildfords Funds Management Pty Ltd Australian Financial Services Licence No. 471379 (A/R No. 001274082). Copyright 2019 and all rights reserved.
CFDs are leveraged products. CFD trading may not be suitable for everyone and can result in losses that exceed your initial deposit, so please ensure that you fully understand the risks involved.