A new name in the increasingly competitive broker space, EagleFX is equipped with a number of unique features that make it an attractive option for traders.  Founded in 2019, it offers a broker trading platform which blends proven processes with the latest in trading trends.
Users can take advantage of up to 31 cryptocurrency markets, and the availability of a 24-7 support team means that queries can be routed to customer service agents via live chat, email or phone, round the clock.  Elsewhere, the selection of Meta Trader MT4 as the trade execution platform of choice suggests that EagleFX are keen to position themselves as adopters of industry leading solutions.
Traders with experience of the contrary will be interested to learn that this broker also claims to be able to facilitate same-day withdrawals something that most other brokers do not offer. Once transferred funds are placed in the market, traders can take advantage of very competitive trading spreads.
Other noteworthy features include zero fees on deposits and withdrawals of funds (which can be for small amounts such as US$10).
The company is registered in the Dominican Republic and is in the process of examining which regulatory body to align with. According to the customer support team:We are currently researching which regulatory body we would like to consider for regulation. What we need to be careful of is that we dont eliminate certain countries or citizens of the world so for that reason we are taking our time.
EagleFX does not try to be an everyman broker platform. Instead it uses a combination of powerful software tools supported by agile functionality to deliver an approach to trading that will appeal to a certain kind of trader.
The site is housed within a web-browser format and offers a clean, light touch interface that should be attractive to traders who desire simple functionality, good customer service and incisive leverage terms.
We have yet to come across a trader who doesnt like to see zero commissions on cash deposits and withdrawals so that part of the EagleFX offering will appeal to all. The fact that withdrawals can be made the same day will also catch the eye of some.
Trading itself is conducted through Meta Trader MT4, which is a system with a robust pedigree and best-in-class software tools and indicators. Traders should note that the charting, execution and analysis tools of the MT4 suite are well-established and put all the essential functionality in one place.
Traders looking to trade forex and crypto will find EagleFX offers a range of markets that is hard to beat. There are 53 forex pairs and 31 crypto markets. Trading spreads are tight and the MT4 execution GUI is as reliable as they get.
One feature which might appeal to those who are more active in cryptocurrencies is that EagleFX provides cold storage for crypto deposits.
Traders who are unfamiliar with Eagle FX, but wish to try it out, can take advantage of a free to access Demo account. The Demo account has the same functionality as the Live account but makes trying out strategies (essentially before any capital is injected in to the markets) an important part of the learning process. Another plus is the lack of time restriction, which mean that the traders can invest time and energy into practice and knowledge acquisition before they go live.
The EagleFX offering is very much one that involves simple functionality. Accordingly, there is one type of Live account.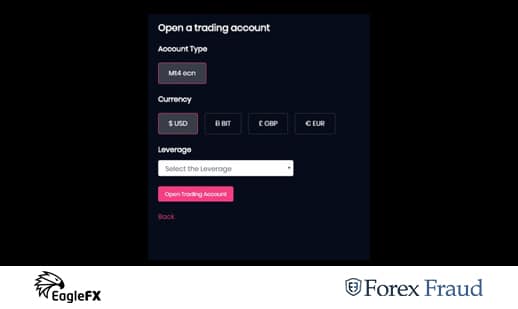 As well as USD, deposits can be made in EUR, GBP or Bitcoin BITs. They are held in what Eagle FX terms a Vault account and are moved to the Trading account to collateralize trading activity. All trading accounts are USD nominated.
The Account Queries section of the FAQs section includes a concise break down of the options available to account holders who can adjust their profile and preferences very easily. Updates to additional services such as Two Factor Authentication (2FA) or personal details are processed instantly.
Islamic Trading accounts are available and are set up by contacting the EagleFX support desk. Swap-free accounts do not incur rollover charges, but administrative charges do apply.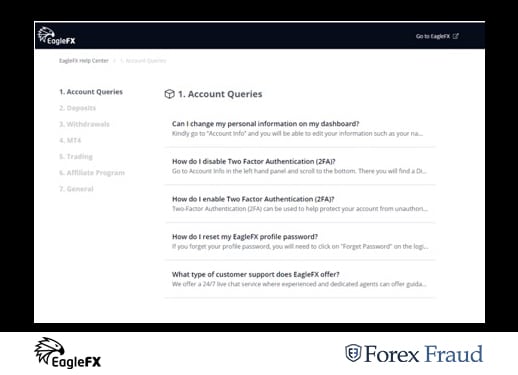 EagleFX offer access to 53 forex markets, 31 cryptocurrency markets, 11 equity indices and 7 commodities markets. The spread of markets is global.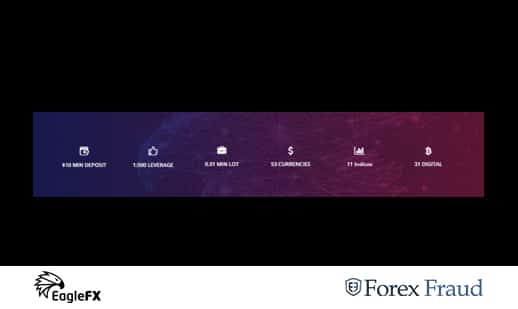 Forex markets available include a whole range of Major, Minor and Exotic currency pairs and FX crosses go down to the level of pairs such as AUDCHF, EURPLN and NOKSEK.  Crypto markets include major names such as BTCUSD but also Bitcoin Altcoin pairs such as ETHBIT
The range of global equity indices is limited but includes all the larger names including SPX500, GER30, UK100, AUS200 and NAS100. The limited range of commodities includes markets in oil, gold and natural gas.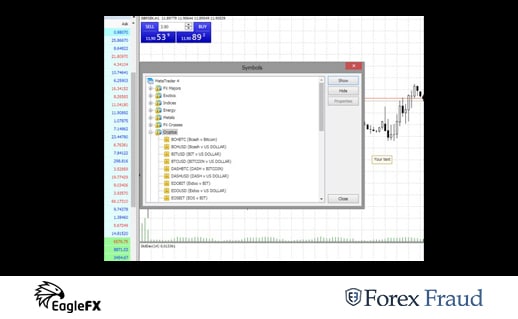 MT4 can be set to operate in one of 41 languages ranging (alphabetically) from Arabic to Vietnamese.
During this review, the testing of the customer support team found the staff were able to address all queries promptly and accurately. In 84% of cases, our issue was addressed in the first instance
The Live Chat feature successfully provided virtual access to the EagleFX support team. Overall, response times compared favourably to other brokers in the sector and the lasting impression was of a company thats genuinely there to answer questions from customers. In tests, queries were dealt with relatively quickly, without proving a major distraction from the business of trading.
The telephone call back system is a neat idea.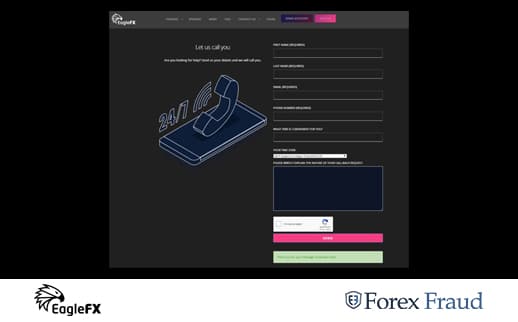 We did, however, find call back response times were slower than those we experienced when using live chat. Using call back it was a matter of minutes rather than seconds before we were communicating with the EagleFX team.  In addition to the high standard of customer services, EagleFX also makes support available 24 hours a day, 7 days a week. This is unusual in the broker space, where many brokers can only access help Monday to Friday during standard market opening hours.
For traders and analysts who wish to experiment with new strategies during weekend periods, theres an obvious opportunity to reach out to customer support when they are testing new ideas.  Most other brokers in the space provide 24/5 support at best. As crypto markets trade on a 24/7 basis and analysts exert themselves 24/7 its helpful to have expert support available at those times as well.
On the downside. The Live Chat window can get in the way of other areas of the site. Scrolling doesnt always solve the problem and minimizing the chat slows down the speed of resolution.  It would also be helpful to have a switchboard/help desk phone number available. While the Call Back service delivers a degree of convenience there are sometimes delays between requests being logged and calls being made. That can be frustrating.
One of the main selling points of EagleFX is its competitive execution spreads.  The spreads are variable which means traders tend to get better rates during periods of low volatility but might experience spreads gapping at times of market stress.  As is often the way with brokers that offer tight spreads, EagleFX is very willing to share information on its pricing. They even provide a Live Spreads area on the website which updates every 10 seconds and details some of the user-friendly small print.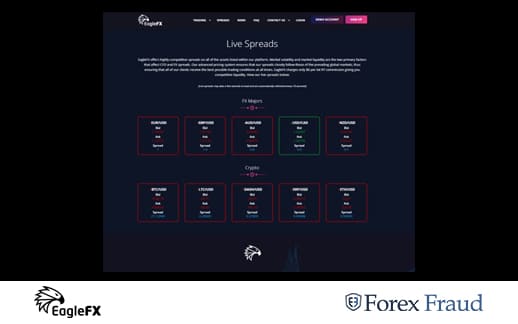 The minimum trade size is 0.01 Lots and the maximum trade size is 1,000 Lots.   Another point in EagleFXs favour is that it allows trading strategies such as scalping which some other brokers do not.
All accounts back into MT4 and offer Electronic Communication Network (ECN) trading.  This essentially involves EagleFX forming a bridge between individual account holders and larger liquidity providers who have improved levels of access into the forex markets. The site advertises that liquidity providers include Barclays and Deutsche Bank; however, our review was unable to substantiate that.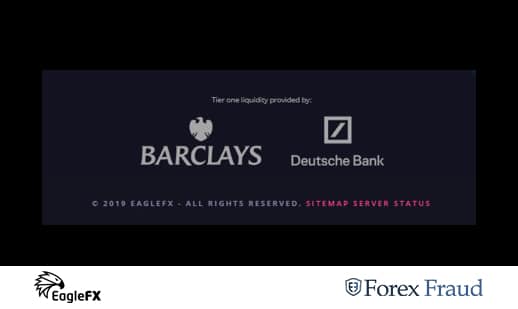 Open swap positions have overnight financing fees applied to them. The EagleFX site does not itemise the rates charged, and the pricing schedule exhibits some variation across instruments, so some diligence on behalf of the user is necessary before trading commences.
The site does advise that this information is available from the support team, but in tests our reviewers indicated that they would prefer the information to be shared more transparently even if this results in a slightly more cluttered interface.
The commission charged by EagleFX is 6 USD per lot per trade. If the traded lot size is smaller, then this rate is adjusted because the commission is calculated per lot. For example, if you placed a trade with 0.1 lots, it would charge 0.6 cents.
EagleFX claims to charge zero fees on capital movements into or out of accounts held there.
Adopting a fee-free policy on deposits and withdrawals would be an attractive proposition to most traders as overhead costs are an unpopular drag on trading performance. As the broker is relatively new on the scene (founded in 2019) we might suggest the proposition may not have been tested thoroughly. By this we mean the trading community has not yet shared any negative experiences. It just needs to be flagged up that the absence of comment challenging the proposal might actually be a false negative
The MT4 platform has been around since 2000. Whilst there continue to be refinements it lives according to the adage that if it aint broke, dont fix it.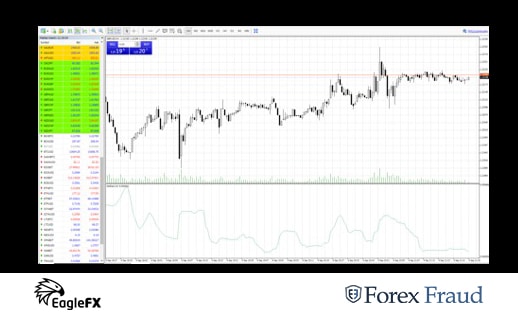 Its available in a downloadable format which is compliant with Windows, Mac, iOS and Android. There is also a web-trader version available through web browsers.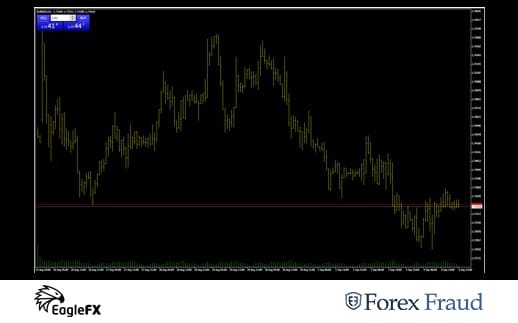 The popularity of the service and the multitude of awards it has won are down to more than it just being readily available.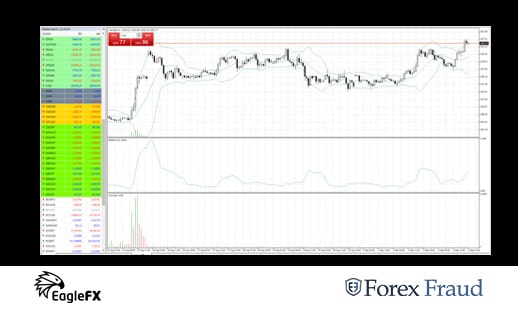 First off, trade execution is intuitive, smooth and reliable. Traders can adjust the system to their preference and operate using one-click trading. Order building optionality allows for market, pending and stop orders and trailing stop losses and take profit instructions are also available.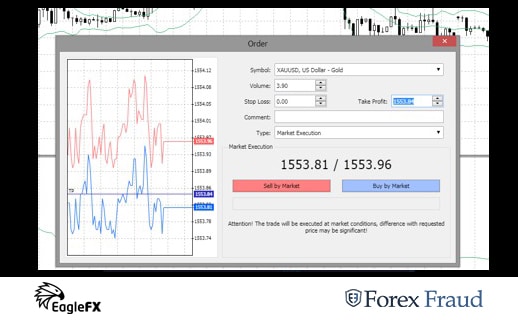 Given the range of powerful services available its worth mentioning that the dashboard maintains a crisp and clear aesthetic and navigating from market to market or screen to screen is simple and easy. This combination of agility and power makes it possible for traders to get into a perfect situation from which to trade the markets
The MT4 mobile trading app is available as a free download on both the iOS and Android platforms. Tablet and smartphones are supported, and the app contains both Demo and Live account options.  Traders considering adding this app to their devices will be pleased to see that the spirit of the desktop version is replicated here. The willingness to support users is evident in the selection of tools to analyse the market and seamlessly execute trades.
In total there are 30 technical indicators and 24 analytical objects, including lines, channels, geometric shapes, as well as Gann and Fibonacci levels.  Those users who require the flexibility to change between Landscape and Portrait format will be pleased to learn that this feature is available on the app. On a practical level, the functionality enables users to change the orientation of the screen, thereby getting the most effective experience from the onboard indicators and objects.
EagleFX does not offer social trading. Being a new company it is possible this is on their to do list but it is not available at present.
The provision of a Meta Trader account means users are provided with access to resources from that community. Although this is not a specific EagleFX community, Eagle users accessing the Meta Trader community will actually benefit from being part of a larger group. MT4 is, after all, the most popular retail broking platform in the world so the thoughts shared among its many users are a considerable resource to draw on.
EagleFX does not currently offer copy trading. Being a new company it is possible this is on their to do list but for current users, it is not an option.
EagleFX users have access to 31 crypto markets. That is a considerable amount, particularly as the number offered by some brokers is in single figures.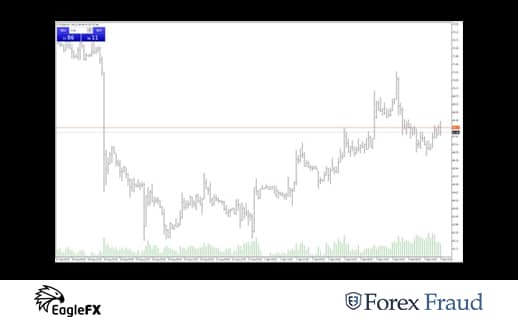 As well as straightforward markets such as Bitcoin in USD and Ethereum in USD the crypto markets offered by EagleFX include Bitcoin Altcoin pairs such as ETHBTC.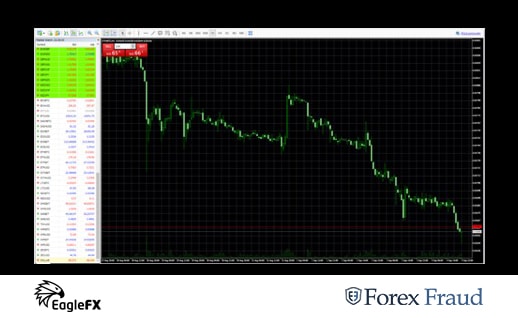 The powerful analytical software is a joy to use. Each symbol can be displayed in 9 timeframes, allowing traders to view the price dynamics in detail and as they choose.  There are 30 technical indicators and 24 graphic objects included which means that users can take advantage of an extensive and comprehensive analysis of price movement.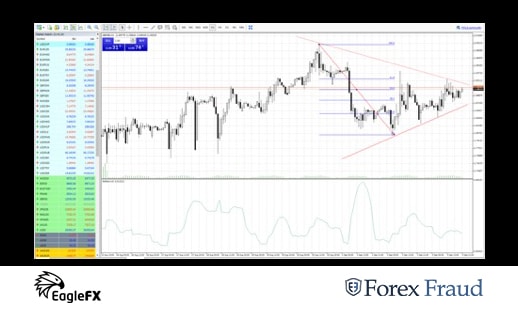 The appearance and properties of each chart can be set up on an individual basis. The platform has the functionality to allow all the following items on a chart to be individually colour-coded: background, foreground, grid, bar up, bar down, bull candle, bear candle, line graph, volumes, ask lines and stop levels.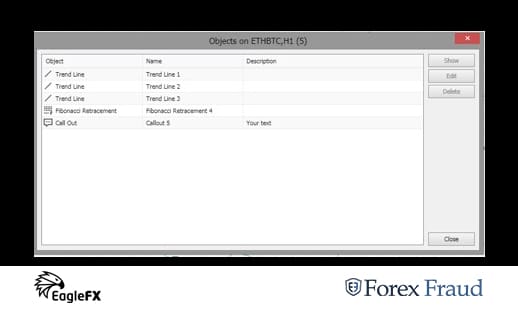 Any objects and/or indicators which need to be removed can be easily selected and deleted making it easier for analysts to chop and change their approach without losing the areas of their work they value most.
The News area of the EagleFX site provides daily news articles which report on recent market events from an analytical viewpoint.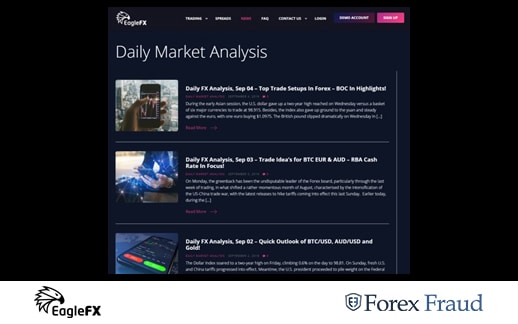 This section represents the sites research and education offering. EagleFX offers a more hands-on style of learning than some other brokers. Clients wont find a long list of bespoke research notes or tutorial videos but they will find technical analysis notes relating to specific trading ideas relevant to the market events of the time.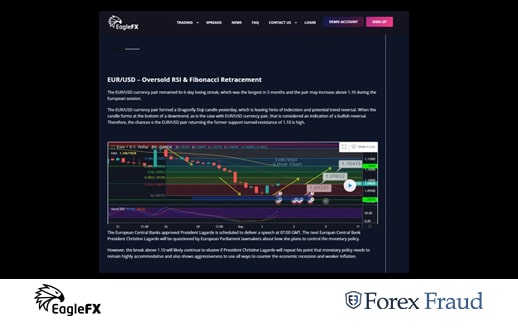 Alternative research and learning tools come as part of the Meta Trader package. The Traders Forum on the MQL5 site includes services relating to Calendar, CodeBase, Articles, Freelance, Market, Signals, VPS and the members forum.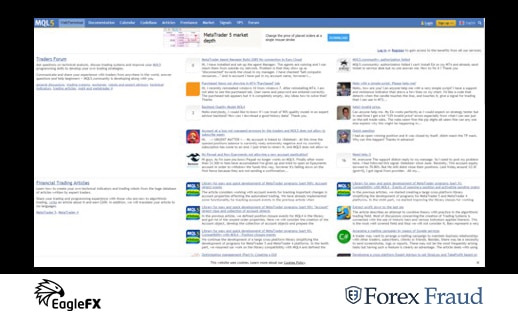 An earlier part of this review referenced the fact that the company (which is registered in the Dominican Republic) does not have regulated status from any financial body. This may mean some traders will consider using this platform to be too much of a risk, however the firm seems to be taking steps to address this issue and has released a statement to clarify its position:
We are currently researching which regulatory body we would like to consider for regulation. What we need to be careful of is that we dont eliminate certain countries or citizens of the world so for that reason we are taking our time. Potential users should also be aware that theres no information currently available on which bank or organization holds account holder funds.  Finally, the lack of Negative Balance Protection (NBP) is at odds with the current move towards brokers offering it as an option.
As always, the most compelling advice to traders is to complete exhaustive due diligence checks before choosing a broker. Ensure that all areas of the service are thoroughly investigated and dont be afraid to ask questions.
A good place to start is to check through the brokers risk-disclosure policy. In that at least EagleFX offer a comprehensive and up to date disclosure page at
Elsewhere, EagleFX have made efforts to include certain security features that some other brokers have failed to adopt. For example, cold storage of crypto assets means that a firewall is situated between the client assets and the internet. Theres also the facility to make same day withdrawals excellent if an account requires liquidating at speed and a significant upgrade on the options available from most other brokers.
Operational risk is managed through the use of a two factor log in (2FL), which is available to all account holders. Data that passes between the client terminal and the MT4 servers is encrypted. The MT4 platform also supports the use of digital signatures.
Registering for an account is a straightforward process that requires little more than submitting email details.
Once in, it quickly becomes clear that EagleFX have invested time and energy in establishing exactly what users need to get started. The site features a well-constructed section that contains a host of illustrations, step by step instructions and videos that clearly explain how to access the different versions of the MT4 trading platform.  Experienced users will also find some of the information useful particularly if they need to be reminded of the different aspects of the onboarding process.  In summary, EagleFXs decision to provide walkthroughs is a welcome point of differentiation.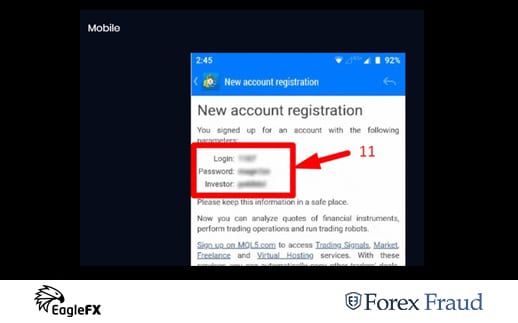 There is one type of Live trading account on offer. It can be funded using USD, EUR, GBP or Bitcoin BITs and transfers can be made using Bitcoin, credit card and wire transfer. These are paid into an account area described as the Vault and from there they are transferred into the Trading Account. EagleFX does not share information on which banks are used to hold client funds.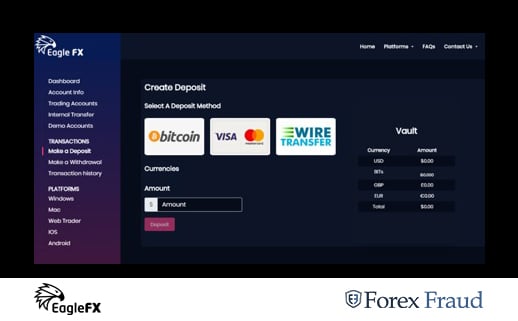 Leverage rates are set to the preference of the account holder. The minimum rate is 25:1 and the maximum rate 500:1 which would satisfy even the most aggressive trader. As higher leverage rates can mean greater losses as well as greater profits the ability to trade in small sizes is from a risk management perspective a step forward. The minimum amount required to open an account is US$10.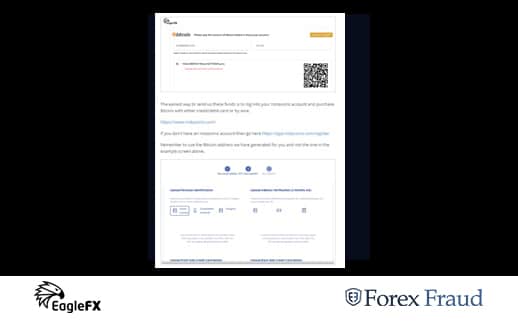 Setting up a live trading account is almost as simple as setting up a Demo account. As EagleFX is unregulated there are none of the Know Your Client documentation requests that are associated with some of the more established and mainstream brokers. Each potential user will have their own interpretation of the pros and cons of this ease of set up and should be factoring in checks of such things when carrying out their due diligence.
EagleFX have established a niche for themselves by offering innovative services, such as free same day withdrawals. They have also taken the step of making trading/customer services available 24 hours a day, 7 days a week. In the case of the former it means that a pain point has been taken away from the online broking world something thats bound to please traders who have been looking for a platform to challenge the status quo for some time. The advantages of round the clock support should be obvious to anyone who sees the value in experimentation during less busy periods; then there are the trading execution costs where EagleFX proves that tight spreads never go out of fashion.
The regulatory situation will be a concern for many and potential clients would be encouraged to look into this in further detail. Then again, potential clients would be recommended to look into the whole service as well because for some it will be an ideal fit.
76% of retail investor accounts lose money when trading CFDs with this provider. You should consider whether you can afford to take the high risk of losing your money.
Who To Contact If You Have Experienced Foreign Exchange or Commodity Fraud
Forex Scam what to consider to prevent forex scams and fraud
Forex Robots and Trading Signal Software: Who has the Holy Grail?
76% of retail investor accounts lose money when trading CFDs with this provider. You should consider whether you can afford to take the high risk of losing your money.
Trading foreign exchange on margin carries a high level of risk, and may not be suitable for all investors. The high degree of leverage can work against you as well as for you. Before deciding to invest in foreign exchange, or any kind of trading you should carefully consider your investment objectives, level of experience, and risk appetite. No information or opinion contained on this site should be taken as a solicitation or offer to buy or sell any currency, equity or other financial instruments or services. Past performance is no indication or guarantee of future performance. is an affiliate partner with various brokers and may be compensated for referred Traders. All reviews remain unbiased and objective and immediate action will be taken against any broker which is found to be in breach of regulation. These partnerships have proven to be great aids in the furthering communication between brokers and our visitors. CFDs are complex instruments and come with a high risk of losing money rapidly due to leverage. Between 74-89% of retail investor accounts lose money when trading CFDs. You should consider whether you can afford to take the high risk of losing your money. Only the NFA regulated brokers featured on this site are available to U.S. customers. Read our fulllegal disclaimer.
Copyright © 2004 – 2019 m. All Rights Reserved.
If you like this discussion on ForexFraud.com then please like us on Facebook
We use cookies to enhance your visit on our website. If you continue to use the website, we assume that you agree to the use of cookies. Find out more about cookies and how you can decide you cookie settings by reading our privacy and cookie policy.Privacy & Cookies Policy