0?(!keyword=+encodeURIComponent($(keyword).value)):)); dexOf(/en/search)
=0)setTimeout(function()document.location.reload(true),10);return false; id=main_search_form class=header-search method=post
Find a VPS server with the lowest ping and the best executionfor $10 per month
Or how do tech solutions lead to practical advantages for traders?
Universal means are generally poor at obtaining record-breaking results. Conventional VPS solutions usually cannot achieve a really fast execution. Here is why.
Hosting providers deploy a fairly powerful server and launch many virtual operating systems on it. For example, this may be Xeon E5-1650 3.5GHz with a total of 24 CPU cores, 128 GB of RAM, 2 x 2 TB hard drives in RAID1 and 1 Gbps network. The server runs 80 virtual operating systems, while a target application is launched within them in its turn.
This powerful PC has plenty of resources, but if we convert them into the needs of each virtual OS, we will see that they are insufficient. For example, each virtual OS receives only 1 GB out of 128 GB of RAM. Each virtual OS receives access to only one CPU core out of 24 ones. It is physically impossible to use inactive cores if necessary.
The reason is the already mentioned universal character of such non-forex VPS. The vast majority of the resources of the powerful machine are spent on maintaining the operation of 80 virtual operating systems.
Each OS launches at least 500 threads. If we multiply this value by 80, we get 40 000 active threads.
Each virtual OS occupies at least 100 MB of RAM. This means the total of 8 GB of RAM considering 80 instances.
There is a latent disk activity of 80 OS copies.
That is the price paid for the solutions versatility. This could be tolerated if not for one hidden and critical drawback. PC resources are allocated for maintaining such a cumbersome infrastructure and do not reach the target application in time.

This solution does not guarantee a better performance even if your VPS has a minimum ping to the broker. Suppose that a trading robot is about to perform a trade after analyzing the markets. But since the hardware is overloaded, a delay occurs between making a decision and sending a trading order to the server.
Sometimes, it may comprise 50 milliseconds, while in other cases, it may be 150 milliseconds. Although the order is sent instantly, you still have execution delays. This time, they arise on the hosting PC itself causing you tolose part of your profit.
Second, if your trading robot processes large amounts of data, then the allocated CPU core may simply be not enough. Due to CPU overload, the platform may have no time to analyze quotes quickly. The results are the same: delays and losing part of profit.
Third, virtual operating systems often feature no graphical drivers meaning that the entire work of displaying charts is directly imposed on the already overloaded CPUs. This slows down the EAs analysis and reduces the profit further.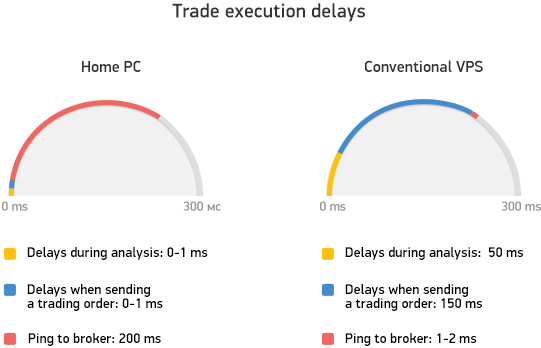 All these delays overlap and seriously increase the actual execution time, while the ping to the server remains at the declared low level.
Our solution takes into account all these drawbacks. We are able to launch 80 (or even more) trading platforms on the same server. Besides, we actually provide all the advantages of the better execution and 24-hour uptime.
First, our service features only one operating system. All trading platforms are launched only in this OS and almost all the PC resources are allocated to them. Each MetaTrader instance receives much more:
CPU cores are not loaded by infrastructure maintenance operations. They are always free and do not inhibit the analytical functions of trading robots. There are also no delays between making a trading decision and sending an order to the server.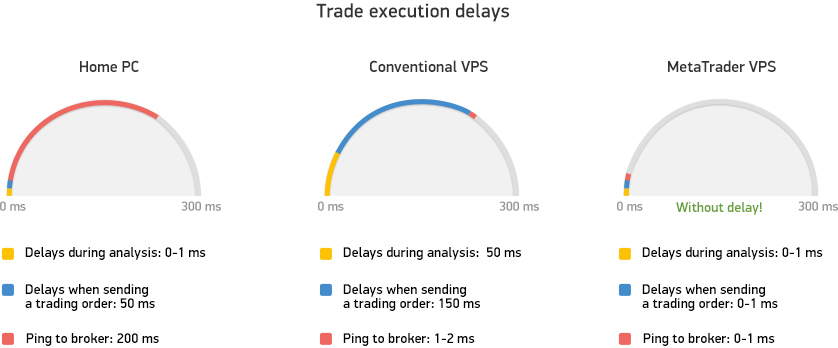 In addition, we have developed special lite versions of trading platforms for our forex VPS. All functions not used for algo and copy trading are disabled.
The graphics system is completely disabled – since the charts are virtualized, a graphics card is not needed. Thus, there is no unnecessary load on CPU and nothing interferes with the EAs useful calculations.
*The following configuration has been used for calculations here and further below: Xeon E5-1650 3.5GHz with a total of 24 cores, 128 GB of RAM, 2 x 2 TB hard drives in RAID1 and 1 Gbps network. 80 instances of the MetaTrader 5 platform have been launched on this PC.
A conventional hosting service actually reduces delays when the platform connects to the brokers server. Instead, however, you receive delays at the hosting PC itself. The issue can be solved by renting less loaded servers or even a separate server. But these solutions are much more expensive (for example, $100 per month) especially as compared to$10 for MetaTrader VPS.
Our virtual hosting really provides all the claimed benefits. It has no side effects, and your trading robots always have enough resources. Moreover, our specialized solution also has a number of additional advantages:
Quick launch and no need for configuration. You do not have to be a system administrator and configure a virtual OS. Our solution is integrated directly into the platform and managed from a common wizard.
Marketapplications do not lose their activations when running in our hosting.
MetaTrader VPS can be used for freewithin the first 24 hours providing the best opportunity to test our solution. Want to try?
Launch the platform before renting a forex VPS. The platform trading environment (active trading robots and signal subscriptions) will be copied to the virtual server.
If you have not installed the platform yet, you candownload it here